Ralph "Cappy" Miller Biography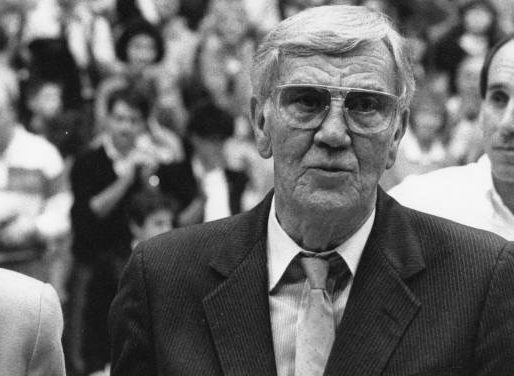 100 years ago this March 8, Ralph "Cappy" Miller was born in Chanute, Kansas. His name is familiar, but you probably do not know why anyone decided to name the Chanute's gymnasium and this tournament after him. However, this Chanute native shaped the game of basketball by popularizing a revolutionary man-to-man defense and in the integration of minority players into his teams.
Born Athlete
Miller was born March 8, 1919 to parents who both had a great love for athletics. His father was a letterman basketball player from Kansas University, and his mother also a star basketball player. While she played for Chanute High School, the team won four state championships. Miller wrote in his autobiography, Spanning the Game, "I guess my bend for athletics was sparked from both sides of the family." That bend was backed up by substantial talent: when the High School had its junior track meet, Miller entered in every event possible and won each and every one, save the broad jump, where he was defeated "by a quarter of an inch." His success extended into other sports too. His basketball team won all but four games in four years, including Chanute's last basketball state title in 1935, and he was named to all-state teams for three straight years.
College Star
His successes drew the attention of seventy-some universities, and (as he recalls) fifty recruiters came to the Miller home to discuss college sports in 1937. He had drawn the list down to three schools, but after a visit to Northwestern in Chicago, he decided the Windy City was not for him, leaving only Stanford and KU. Stanford at the time was coached by John Bunn of Humboldt, Kansas, a friend of Ralph's father. He was on a campus visit to Stanford and was pressured by its top athletes to stay, but had Coach Bunn drive him home so that he could tell his parents his decision. However, he was intercepted at home by Kansas Athletic administors and Dr. Forrest "Phog" Allen, and had a change of mind, deciding to play for KU.
While he played at KU, the Jayhawks football team had some successes, but the team never took off like he wanted. A 1938 knee injury locked up his leg occasionally and it took two correctional surgeries to fix, but it had little effect on his performance; as a quarterback, he had the highest passing percentage in '39. His basketball fortunes were substantially better. Under Allen, Miller's junior team dominated all the way to the 1940 NCAA championship, where they lost to the Indiana Hoosiers in a 60-42 disappointment. The next year he sat out while recuperating from his second knee surgery, but the following season he broke the KU scoring record with 30 against the Wichita State Shockers.
Defensive Revolution
After graduating, Miller joined the Air Force and served for three years before being discharged after WWII. He coached a year at Mt. Oread High School in Lawrence, then Miller hoped to strike it rich transporting citrus fruits, but major clients pulled out and he was forced into other work, and landed a job as high school coach at East High in Wichita. Miller worked to find a playing style, and came across a "gimmicky" 2-2-1 pressure defense which was effective at blocking full-court offensives. He adapted it around a man-to-man defense to ensure its usefulness even when the prior drive had been a non-scoring one. Through sporadic usage of the strategy, East High won the 1951 state title. However, it was not until 1959, after he had joined the Shockers, that he fully embraced the defense.
Straight Shocker
Immediately after winning the '51 title, Miller was contacted by the president of WU and offered a job. In building his team, he recruited multiple black members, to the chagrin of his contemporaries. However, his help breaking the color barrier came with results, and he won 220 games in his tenure at WU (now WSU), and secured a spot in the NCAA tournament once. 1955 saw the erecting of The Roundhouse, which some cynics called "Miller's Folly", thinking he would never be able to fill up the stadium. However, in about three years they did fill it up, and talks began of raising the roof of The Roundhouse. Miller's final year with the Shockers took them to the Final Four, where they lost to Kansas State.
Passing Powerhouse
By 1964, Miller had thoughts of moving on to a larger university. He and Iowa began conversation, but right about that time, KU's head coach retired. KU desperately wanted to recruit him, and he wanted the job, but a bill that inducted WU into the state system prohibited such a transfer. So Miller went to work for the Hawkeyes and had the largest head coach's salary at the time. He promptly converted the team from a traditional defense to a pressure defense, saying "its easier to teach a young pup new tricks than to change the habits of an old dog. I'm older than the players, so we'll teach them some new tricks."
At Iowa, Miller managed to create an offensive powerhouse, with dozens of players scoring over 20 points a game during his time there. Miller said 1967-68 was one of his favorite years, and for good reason: it was an entirely fresh team that he managed to shape into true shooters. That year saw them win a co-championship in the Big Ten, though they lost in a disappointing bout with Ohio State. Miller expected to dominate that next year, but maintenance forgot to install heaters in the practice building, and the bitter cold of that year prevented him from getting the team in shape. However, 1970's team led by John Johnson, known as "J.J. and the Dealers", made up for that, taking an early conference lead with a high-octane passing game. A bitter loss in the Elite Eight halted what Miller thought would be an NCAA championship, but the Iowa (and NCAA) scoring records were rewritten that year.
Out of the Cold, into the Wet
In 1970, Miller and his wife were tired of the cold weather in Iowa and wanted to move on. Coach Valenti of the Oregon State Beavers had retired, so Miller took a job as the OSU head coach. The 1975-76 season was a strange one, and technicalities during it reduced Miller's all time career wins from 674 (ten more than John Wooden), to 657. During that season, a star player named Lonnie Shelton signed with the New Jersey Nets, without understanding doing so would revoke his NCAA eligibility. As a consequence, all the games he played that year were invalidated, and Miller forfeited 17 wins. However, putting that unfortunate event in the recesses of memory, Miller carried the Beavers to eight NCAA appearances, and turned the team into a Pac-10 juggernaut.
Immortalization
When he retired, Miller had managed to become the second winningest coach in OSU history, behind Slats Gill. While the Beaver's basketball arena is called "Gill Coliseum", the floor was christened "Ralph Miller Court" after his retirement. And, as you know, that is not the only thing named after him. The old high school's gym is still Ralph Miller Gymnasium, and Chanute still hosts the Ralph Miller Classic every January. His career wins made him the seventh winningest coach of all time (sixth, if you factor in the Lonnie Shelton wins), and just three spots behind his mentor, "Phog" Allen. His popularization of the man-to-man full-court press evolved the entire game's defense, and his talent search among the African-American community aided the integration effort. Ralph Miller died of COPD complications (he was a smoking addict), in 2001, but he has been immortalized in the Naismith Basketball Hall of Fame, and was one of very few coaches to win "Coach of the Year" twice.