Staff Profiles
Dustin Vargo – Editor-in-Chief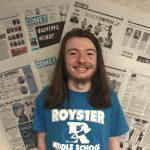 Dustin Vargo is entering his third year on The Comet staff. Vargo's role for this year will be as the newspaper's Editor-in-Chief. He enjoys all aspects of journalism including writing, designing, and photography. Vargo is also a journalism state title winner, having won in Student Life Photography.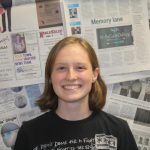 Darbee Chard – Academics Editor
With two years of experience, senior Darbee Chard is the new Academics Editor of The Comet. Along with being a part of The Comet staff, she also participates in book club and cross country. Chard's aspirations include graduating high school and buying a new car, as well as becoming an American History professor and earning $1,000,000 to buy 132,802 footlong Subway sandwiches. During her free time, Chard loves attending concerts and collecting comic books.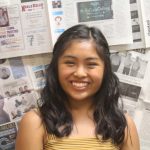 Alyssa Andoyo – A&E Page Editor
Alyssa was a member of The Comet as a freshman and has decided to participate again as a sophomore. As a freshman, she found quotes, helped with the design, and took pictures. Also as a freshman in 2018, Alyssa competed at the state level in the advertisement designing category. She won! Inside of school, Alyssa participates in many extracurricular activities such as cheerleading, scholar's bowl, Kay Club, and Student Government. Outside of school Alyssa enjoys being an artist whether it is through music or drawing.
Rosebelle Toledo – Opinion Page Editor
Rosebelle Toledo, junior at Chanute High School, leaps into her new position as a page editor this year. She is excited to take on a new, more challenging role as she returns for her second year with The Comet staff. Toledo has won two awards in her time with The Comet, including 3rd place in Yearbook Copy Writing and Honorable Mention in Sports Photography. One of Toledo's goals this year is to win first place in a category at the state journalism competition. She also hopes to finish the year with a 4.0 GPA for her third year here at CHS. (Gone but not forgotten)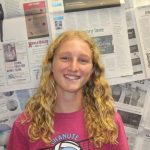 Amanda Stalder – Student Life Page Editor
Returning staff member, junior Amanda Stalder, is beginning her third year on the newspaper staff. Stalder is the managing editor and the student life page editor. Although, all of Stalder's passion is not spent in school and newspaper: she also breeds goats, raises goats, and enjoys taking care of animals. During summer one can find Stalder visiting her home state, Colorado, skiing and hiking in the mountains with her family. Someday Stalder dreams of exploring all the hidden gems that Australia has to offer. Until then, she remains passionate about her education, caring for her goats, and making people smile.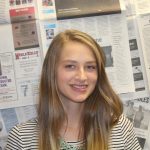 Alyssa Ramsey – Sports Page Editor
Acting as Co-editor of the sports page, Alyssa Ramsey joins The Comet for her 2nd year on staff. In her sophomore year, she placed 4th at regionals in cutline writing. She participates in cross country, track, and cheer. She wants to be a doctor when she grows up.
Mason Vietti – Digital Co-Editor
Junior Mason Vietti is currently in his second year of serving on the staff of The Comet newspaper. Last year he placed first at regionals for headline writing and design. This year he is the digital co-editor. Mason's hobbies include watching movies and being an overbearing know-it-all. When he grows up he aspires to be a filmmaker and media designer.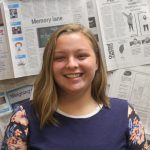 Tibernay Beal – Digital Co-Editor
Tibernay Beal is the Digital co-editor of The Comet. In her free time, she enjoys watching Netflix and is currently into Supernatural. She is a sophomore and is looking into the medical field. She likes Italian food and her cars name is Timmy. her biggest pet peeve is when people in front of her walk slow. Tibernay has 5 siblings 3 are step and two of them are twins. Lastly, her favorite class is Math.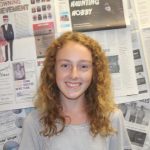 Sophie Osborn – Photo Editor
Participating in her third year on The Comet staff is junior Sophie Osborn. Sophie is the head photographer and has received many state titles. In her freshman year, Sophie placed second at regionals and first at state in sports photography. However, with more experience under her belt, Osborn placed second in sports and student life photography and third in academics photography at state her sophomore year — along with acquiring a few regional titles. As for hobbies, Sophie enjoys basketball, tennis, high-jump, and annoying her friends.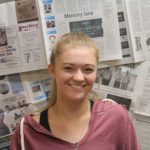 Kennah Ludlum – Graphic Designer
The head of designing for The Comet is Senior Kennah Ludlum. Kennah is 17 years old, born on July 16th, 2001. Her favorite food is homemade tacos. Also, her favorite thing to doing in her free time is to hang out with her friends.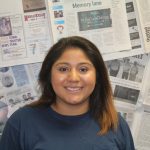 Cecilia Bravo – Graphic Designer
Cecilia Bravo has been on The Comet staff for almost two years. She has been a graphic designer in the past, but she is branching out to be a reporter and a photographer this year. Bravo enjoys going to school events to support her school; she also enjoys hanging out with friends and reading or drawing in her free time. She plays volleyball and softball and enjoys watching football and basketball.
Caden Schwegman – Graphic Designer
Caden Schwegman, a sophomore, is entering his second year on staff. His role on staff is graphic design. His hobbies outside of school include playing sports and video games. He hopes his future holds a job in either playing a professional sport or working with sports medicine.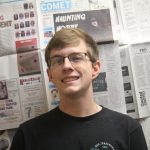 Blake Ayers – Executive Producer
Blake Ayers is a senior with the dreams of becoming a musician. One of his hobbies is playing the guitar. He's been in newspaper for three years and during that time he won 2nd place in State Journalism. He wants his position in newspaper as either audio or a reviewer.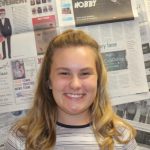 Haley Angleton – Reporter
Junior Haley Angleton is in her second year on the journalism staff as a reporter. She has yet to win any awards as a journalist, but she plans on winning some this year. Her career aspiration is to be an orthodontist, and she enjoys playing tennis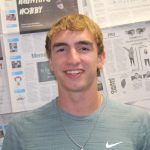 Michael Aylward – Reporter
Michael Aylward, a senior, is entering his second year on The Comet staff. He enjoys his position on the staff as a reporter mostly reporting on sports. He enjoys sports like soccer, track, and basketball. He also enjoys playing video games. Michael said that he would like to do something involved with engineering when he is finished with school.
McKayla Baker – Reporter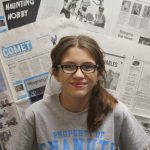 Mckayla Baker, a freshman enduring her first year of high school. This freshman enjoys most of the same things that others her age do, she enjoys spending time with her best friends, playing soccer, drama, debate, and other after-school activities. With her enjoying her time here in Chanute, KS, Mckayla still misses her home in Sherman, TX. She describes herself as; shy, emotional, and upfront." She enjoys certain movies like Matilda and Avengers Infinity War.
Drew Clay – Reporter
Drew Clay is an aspiring photographer for The Comet. She is in her sophomore year of high school and first year in newspaper. She enjoys watching Netflix, reading, and listening to music. Clay plans on pursuing a career in Phlebotomy and enjoys the drawing of blood. Clay plans on staying in newspaper throughout her high school career.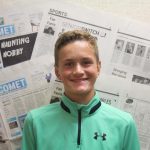 Drayton Cleaver – Reporter
Freshman Drayton Cleaver dives into his first year at Chanute High School, bringing his love for golf, soccer, writing, and communicating along with him. As a member of The Comet staff, Cleaver's passions prompt him to aspire to be a sports writer. His favorite sport is golf and his other favorites revolve around it as well. Cleaver's favorite movie is Chronicles of a Champion Golfer and his favorite music is the sound of quiet clapping. Cleaver qualified for the World Championships on August 19, 2018.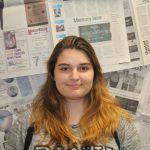 Breuana Duval – Reporter
New to The Comet staff is junior Breuana Duval. As a staff member, she hopes to be well rounded- taking photos, writing stories, and making graphics. Although she enjoys most areas of school, Duval plans on proceeding to work in the medical field after graduating and attending the University of Kansas. If Duval lived in a jungle, she would tame a pet ocelot while reading and crocheting. However, Duval would not be able to live in a jungle, due to her passion for Italian foods and two of her favorite TV shows: Grey's Anatomy and Supernatural.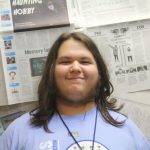 Nathan Farris – Reporter
Senior Nathan Farris is in his second year with The Comet. Farris is in Select Ensemble and hopes to continue a sports column with the Comet. Farris is a devoted fan of the Chicago Bulls, the Chicago Bears, and the Kansas City Royals. When asked about the Bears, Farris predicted an 8-8 season and for Chicago to defeat the rival Green Bay Packers, "at least once". He also blamed former coach John Fox for the "dumpster fire" that was last season. As a massive sports fan, Farris is looking for a career in sports broadcasting.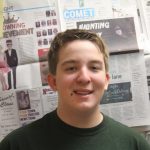 Jayden Gensweider – Reporter
Freshman Jayden Gensweider is in his first year with The Comet. His birthday is July 7th, and he looks to get into sports writing in both his time with the Comet and as a career choice. Gensweider's biggest desire is to one day write for the famed Sports Illustrated, which he considers as his biggest goal to achieve. His favorite sports teams consist of the New York Yankees, Dallas Cowboys, and Los Angeles Lakers. Gensweider is also involved in chess and scholar's bowl in terms of school activities and is also a gamer (if his homework is done, of course).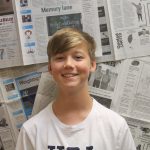 Trey Smoot – Reporter
Freshman Trey Smoot begins his first year on The Comet staff with the hopes to learn many new tasks as well as to spend time with his friends. In his free time he enjoys taking long naps, eating sushi, and playing Fortnite with his friends. Smoot also participates in soccer, basketball, and tennis. Smoot is very excited to start the new year trying new things and getting involved in the newspaper.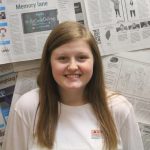 Hailey Stewart – Reporter
Sophomore Hailey Stewart joined The Comet staff this year. As a freshman, she took graphic design. She moved to the Comet due to her enjoyment of writing. Her favorite class is math. Stewart plans on being a social worker and attending Pitt State. Also, she loves animals; currently Hailey has a long-haired Dotson. She enjoys dancing too! She even teaches a dance class. Finally, in her free time, she facetimes or hangs out with friends.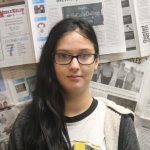 Danielle Wilson – Reporter
At age sixteen, Danielle Wilson is ready to take on her junior year. As a new member of The Comet staff, Danielle hopes to user her passions of reading and photography to help our staff succeed. You may also find her singing, drawing, or reading To Kill a Mockingbird by Harper Lee. She is an introvert, and her favorite color is black. Danielle can be described as blunt, but once you get to know her, you'll find a really nice, yet crazy girl. Despite everything, she is funny, and she should be given a chance.