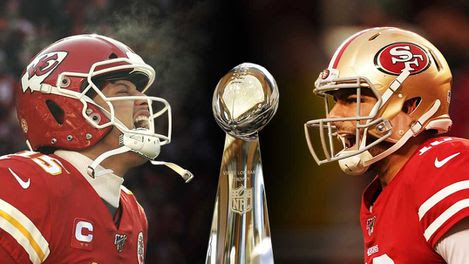 Super Bowl LIV Predictions
Johnathan Sevedge looks over the teams competing in Superbowl LIV and makes his prediction for the final outcome.
January 30, 2020
Chiefs
The Kansas City Chiefs' first trip to the Superbowl in 50 years. The Chiefs have arguably the best team in the league and everybody is doubting their defense, but they just shut down Derrick Henry and I think that may be a sign of things to come. The Chiefs' offense is very good, there isn't really any doubt there. Patrick Mahomes and Tyreek Hill are the best Quarterback/Wide receiver duo, there is no doubt in my mind. The true test is stoping the 49ers' offense which is easier said than done. It will be an interesting game.
49ers
The 49ers will meet the Chiefs in Superbowl LIV, the 49ers are 5-1 in the Superbowl while the Chiefs haven't been in 50 years. The 49ers are the most balanced team in the NFL, their defense is their biggest strength, but their run game is coming on strong. People are doubting Jimmy Garropalo, but I personally believe that's a mistake. Garropalo will prove the doubters wrong and the 49ers will pick up the win.
I predict the 49ers will win in a very high-scoring game, I think the 49ers are just the more balanced team and will prevail in the end.