Senior switch up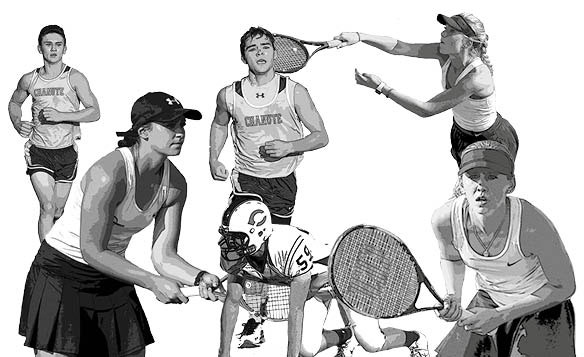 This season of fall sports has brought along new opportunities for many athletes. Many seniors have decided to try out new sports during their last year at CHS. What were their motives? We asked them some questions to figure out.
Change can be hard, but it often can pay off.
For Madi Thompson, she switched from playing volleyball to playing tennis. There were a few different things that lead her to change.
"It seemed fun and I liked the challenge of starting something new." Thompson said.
Another purpose for her change was the amount of her friends in the sport. She says it has been a nice change of pace and is a fun, relaxing sport.
Ashlynn Smoot also switched from playing volleyball to joining tennis. She has played volleyball her whole life until this year.
"The last couple years I have mainly only been playing volleyball because it's what I've done since I was little. I've always thought tennis would be a fun change and this is the year I decided to follow through with that," Smoot said.
She thinks tennis has an uplifting environment with many of her friends.
There were a duo of runners join the men's cross country team. One of these newcomers to the sport was Jacody Hockett. He said he's thought about running before and decided to go all out during his last year at CHS.
"Because this is my first year doing it, I'm sure there will be some challenges. For one, it will be hard to learn how to pace myself throughout an entire race," said Hockett.
He wishes he would have tried this new sport out earlier because it is a lot of fun and he could be in much better shape.
The other newcomer to cross country was Kolby Ussery. He used to play football but wanted to try something different his senior year. He said he wanted to try out cross country because his dad always ran it. Ussery thought that if he tried the sport out sooner he could be a lot faster and in better shape.
Another reason why he decided to run is his one on one competitive nature. He likes that he has no one to blame other than himself for his success or failure.
Tristan Bunke also switched sports. He played football freshman year but suffered an injury that pushed him away from the sport.
"It's hard getting hurt and taking a break because when you come back you have to relearn all the plays." Said Bunke.
Even with those challenges Bunke still thought football was fun, especially the games and getting to be with his friends.
One final senior that tried a different sport during their senior year is Kaitlyn Newton.
She played volleyball her whole life until an injury got in the way. She was out of it for two years and decided to play tennis instead once she got healthy. She thought tennis would be a little bit more easy going and liked that it is a lifetime sport.
"I have a lot of friends that play tennis and help me out since I am a little behind."
These seniors have shown that it is never too late to change. You never know what you could get out of it.