NBA Mount GOATmore
December 21, 2020
With ESPN releasing "The Last Dance" documentary series about Michael Jordan's last NBA championship and LeBron James capturing his fourth NBA title this year, a lot of people are debating who is the greatest of all time or the "GOAT."
The next NBA season is on the horizon, we had our sports staff put together their All-Time NBA Mount Rushmores. They each picked who are, in their unbiased opinion, the NBA's Mount Rushmore.
Jayden: Michael Jordan, LeBron James, Kareem Abdul-Jabbar, & Kobe Bryant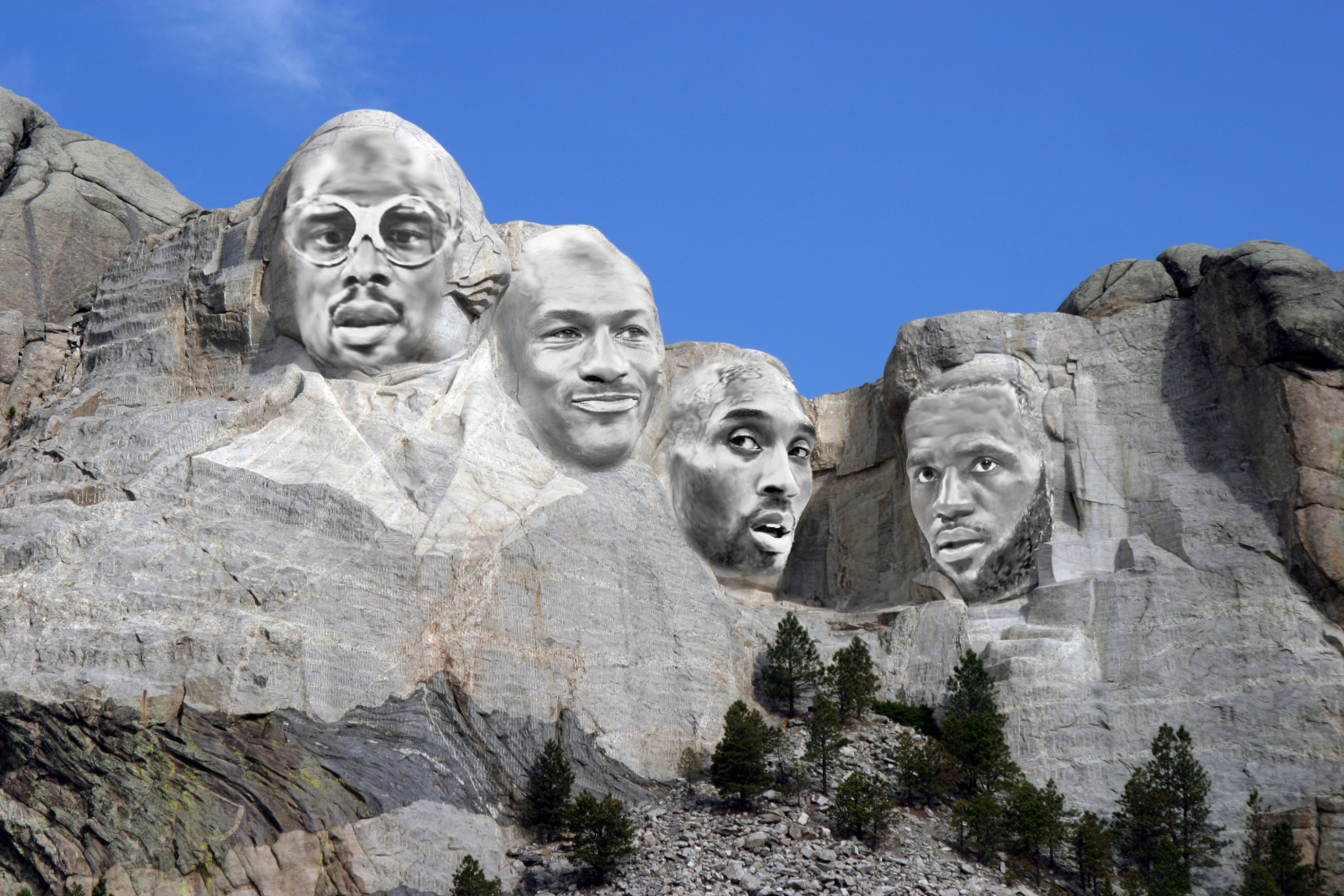 My Mount Rushmore starts at the top. Although I am a Lakers fan and I'm very thankful for LeBron James bringing us our 17th NBA title, Jordan is my GOAT. Over the quarantine, I found old Michael Jordan games on YouTube and he passed the "eye-test" with flying colors.
Jordan played for the Bulls from 1984-1993, took a year and a half off to play baseball, returned to the Bulls in 1994, and played until 1998. He also returned to play with the Wizards for two years in the early 2000s but we don't talk about those years.
In his career, he made 14 all-star appearances, 10 scoring titles, 3 steal titles, 6 NBA championships, 11 all-NBA teams, 9 all-defensive teams, 6 NBA Finals MVPs, and 5 NBA MVPs.
Jordan averaged 30.1 points, 6.2 rebounds, and 6.2 assists per game. He shot .497 from the field, .327 from three, and .835 from the free-throw line. Jordan has a career player efficiency rating (PER) of 27.91, with 214 win shares, a 9.2 box plus-minus, and a value over replacement player (VORP) of 116.8.
The advanced stats love Jordan. His career PER and box plus-minus is higher than anyone's in NBA history, he's 5th in win shares, and he is 2nd in VORP.
He also went 6-for-6 in the NBA Finals with worse teams around him than some other players on this list. I believe that if you replace James with Jordan on those early 2010's Miami Heat teams they win four titles.
Next up on my list is James himself. James has played for the Cleveland Cavaliers, Miami Heat, and Los Angeles Lakers. He is in my opinion the second-best of all time. He has the rare ability to play all five positions on a level that only Magic Johnson really could.
King James has 16 all-star appearances, 1 scoring title, 1 assist title, 4 NBA titles, 16 all-NBA teams, 6 all-defensive teams, 4 Finals MVPs, and 4 NBA MVPs. He's averaging 27.1 points, 7.4 rebounds, and 7.4 assists in his career. He's shooting an amazing .504 field goal percentage, along with shooting .344 from three and .734 from the free-throw line. James only sits only .42 behind Jordan with a PER of 27.49, 236.44 win shares, 8.93 box plus-minus, a 133.67 VORP.
As far as the GOAT debate, James defenders have a few valid points. James has been this good for a very long time. Also, he's developing his game as his career goes on. He got his first career assist title at 35 years old. His court vision rivals some of the best of all-time. Including Johnson, who was the teammate of the next entry on my list.
My third spot goes to the all-time career points leader: Kareem Abdul-Jabbar. Abdul-Jabbar played from 1970-1989 for the Milwaukee Bucks and the Lakers.
He was a 19-time all-star. That's unbelievable. He had 19 years in which he was one of the top 24 or so players in the NBA. He was also on 15 all-NBA teams, so for 15 years, he was one of the top 15 players in the league.
Abdul-Jabbar earned 2 scoring titles, 1 rebounding title, 4 block titles, 6 NBA Championships, 6 MVPs, and 2 Finals MVPs. He also found his way onto 11 all-defensive teams.
In his career, Abdul-Jabbar averaged 24.6 points, 11.2 rebounds, and 3.6 assists. As well as shooting .559 from the field and .721 from the free-throw line. As far as advanced stats, he has a career PER of 24.6, along with 273.4 win shares, a box plus-minus of 5.7, and a VORP of 85.7. He also led the NBA in PER and win shares 9 times each.
For this fourth spot, I was considering Johnson, Shaquille O'Neal, Larry Bird, Bill Russell, and the guy who ultimately got the last spot on my "Mount GOATmore" Kobe Bryant.
Bryant is my personal favorite basketball player of all-time. He played his entire 20-year career with the Lakers and was recently inducted into the hall of fame. He made 18 all-star teams, 15 all-NBA teams, and 12 all-defensive teams. Bryant won 2 scoring titles, 5 NBA championships, 2 Finals MVPs, and 2 NBA MVPs over his career.
He averaged 25 points, 5.2 rebounds, and 4.7 assists. (Pretty good for a guy who "doesn't pass" huh?) Bryant shot .447 from the field, .329 from long range, and .837 from the free-throw line. He had a PER of 22.9, 179.7 win shares, a 4.6 box plus-minus, and a VORP of 80.1.
Bryant is also known as one of if not the most driven player of all-time. "Mamba Mentality" is a well-known piece of Bryant's legacy. He was all business and his business was basketball. In Bryant's first team meeting he said "I'm from PA — went to Lower Merion High School, dominated everything. I just want y'all to know, nobody's gonna punk me. I'm not gonna let anyone in the NBA punk me."
That's why I see those four as my top four NBA players of all-time. These four are icons of not just the NBA but sports in general. If you ask anybody to name a basketball player, most of them will say Michael Jordan or LeBron James. As shown this year by the outpour of support for Bryant's family in the wake of his death, he is one of the most beloved players in NBA history. Last but not least, anyone who watched the NBA in the 1970s and 80s will tell you that Kareem is the most talented basketball player ever.
Drayton: Dirk Nowitzki, Stephen Curry, LeBron James, Michael Jordan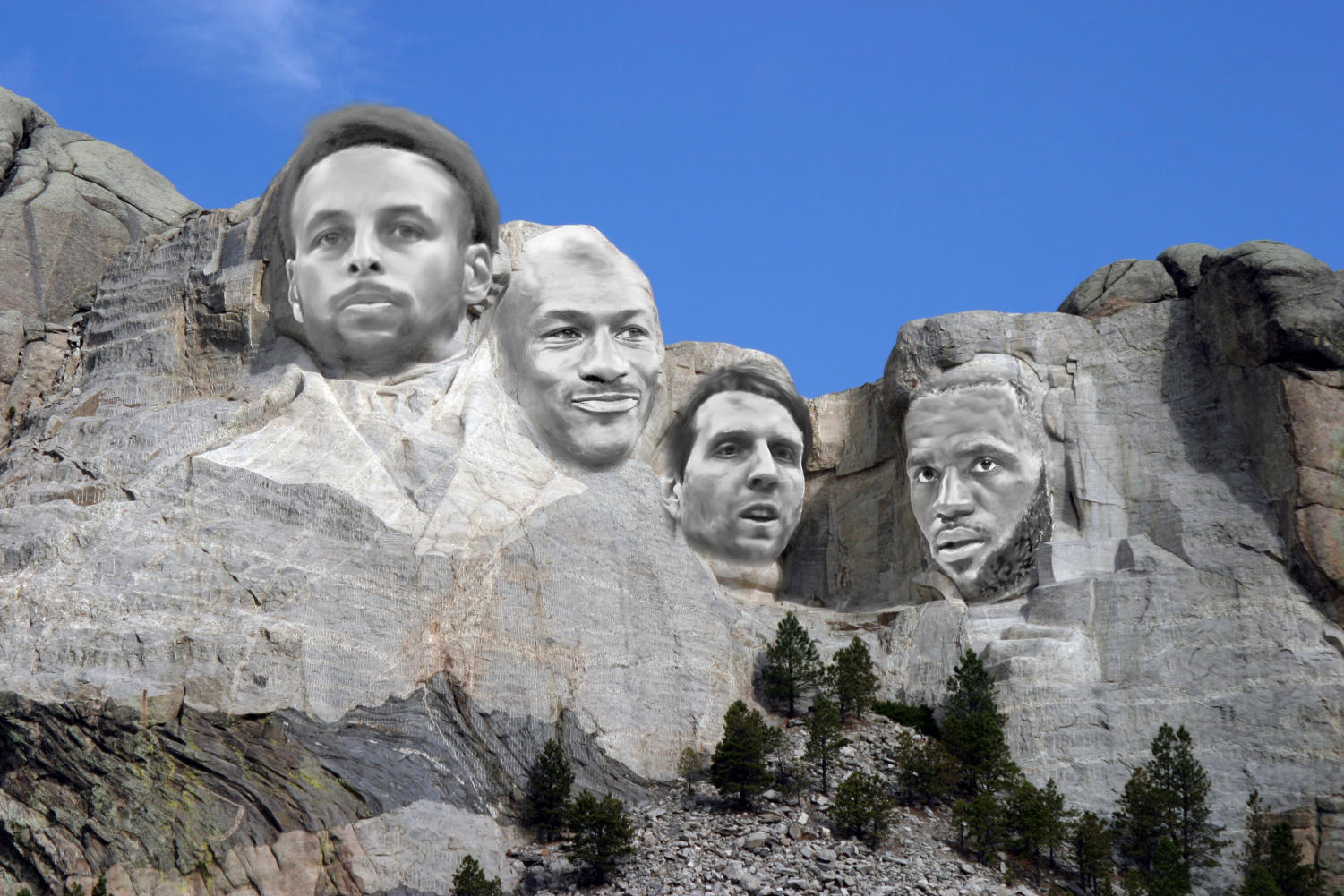 While my peers are focusing on the 4 greatest NBA players to fill out their Mt. Rushmore, I intend on taking this short piece in a different direction. I am going to include, in my mind, the 4 most influential NBA players. My rankings are in no particular order.
To start, I am going to place the first stretch big, and the best player to ever come out of Europe, Dirk Nowitzki. Nowitzki's stats alone put him as one of the greatest players of all time, yet I see his success in influencing the modern NBA game just as large. To start, Dirk was the first and only European player to have ever one MVP outside of the Greek Freak, Giannis Antetokounmpo.
Just as many teams were trying to find the next Michael Jordan in 98, Nowitzki has now influenced many modern draft day picks towards stretch bigs, more specifically, European stretch bigs. The Dallas Mavericks are very clearly the most well-known team for this by trading for Kristaps Porzingis and having drafted Nowitzki.
Nowitzki has also added a signature move to the modern game, the one-legged fadeaway. Many players use this move to various amounts of success such as Nikola Jokic. Finally, Nowitzki was the best player on one of the first teams to have a great amount of success relying heavily on shooting. The 2011 Mavericks shot 37% from 3 on almost 21 attempts per game. At the time, this was one of the best and highest numbers from deep. Because of the success Nowitzki and the Mavericks had, teams such as the Warriors and Hawks now rely heavily on shooting from 3.
"He's the greatest shooter to ever step foot on the court." High praise coming from former NBA MVP Kevin Durant. In this quote, he is speaking of teammate Stephen Curry. Curry has led the Warriors to 2 NBA titles along with winning an MVP.
Curry may not have as many reasons to be influential as others, yet his one focus is really really strong. Curry blows the margin compared to other guards in true shooting percentage, along with all starters in 3 point percentage.
The main people that Curry has influenced have not been current NBA players, but the future NBA players for the next 10 years. Curry has shown many kids and teenagers that you do not need to be tall to be great. Standing at 6'3" Curry does not defeat defenders by his physical power, yet he beats them by his shooting, creativity, and handling. Now, kids are all practicing fancy dribbling and working on their shot because "Chef" Curry has shown them that you do not need physical gifts like height and muscle.
Next, comes an obvious member on this list, Lebron James. James has changed the way many NBA players make decisions regarding both their basketball careers and outside of the court.
Along with influencing other players, James has also set a perfect example of how to influence others when you are in a position of power. His main showing of this is the I Promise School; James opened this school in 2018 in his hometown Akron, Ohio.
James also began a period that we are currently in with Big 2's and Big 3's. James has shown that you do not need a super-strong supporting cast and you can still win championships being star led. Examples of this come from the Warriors, Clippers, and Nets. All of these teams have tried imitating James's strategy of being star-led to various successes. Because of this, our current league is very top-heavy.
James has also been a political and social issue voice. He has shown other stars how to use social media platforms to inspire and bring attention to social issues. Due to these reasons, James is arguably the best player of all time while also leading one of the most influential and inspiring NBA stars.
Finally, the other obvious member belonging to this list, Michael Jordan. Jordan, like James, is arguably the best basketball player of all time, yet his influence off of the court also comes in great quantities. Today, it is normal for athletes to have their own signature shoes and brands, it is normal for them to own hotels, this template was set by Jordan. Jordan currently has one of the most successful brands, Air Jordan.
Jordan also influences on the court, Curry's shrug, kids wagging out their tongues, and many players leaning into their defenders when in the post. All of these acts were inspired by Jordan.
All in all, Jordan may have influenced the game on the court the most, while also inspiring others to have his swagger, all while creating the template for our current day athletes.
Trey: Michael Jordan, LeBron James, Tim Duncan, & Magic Johnson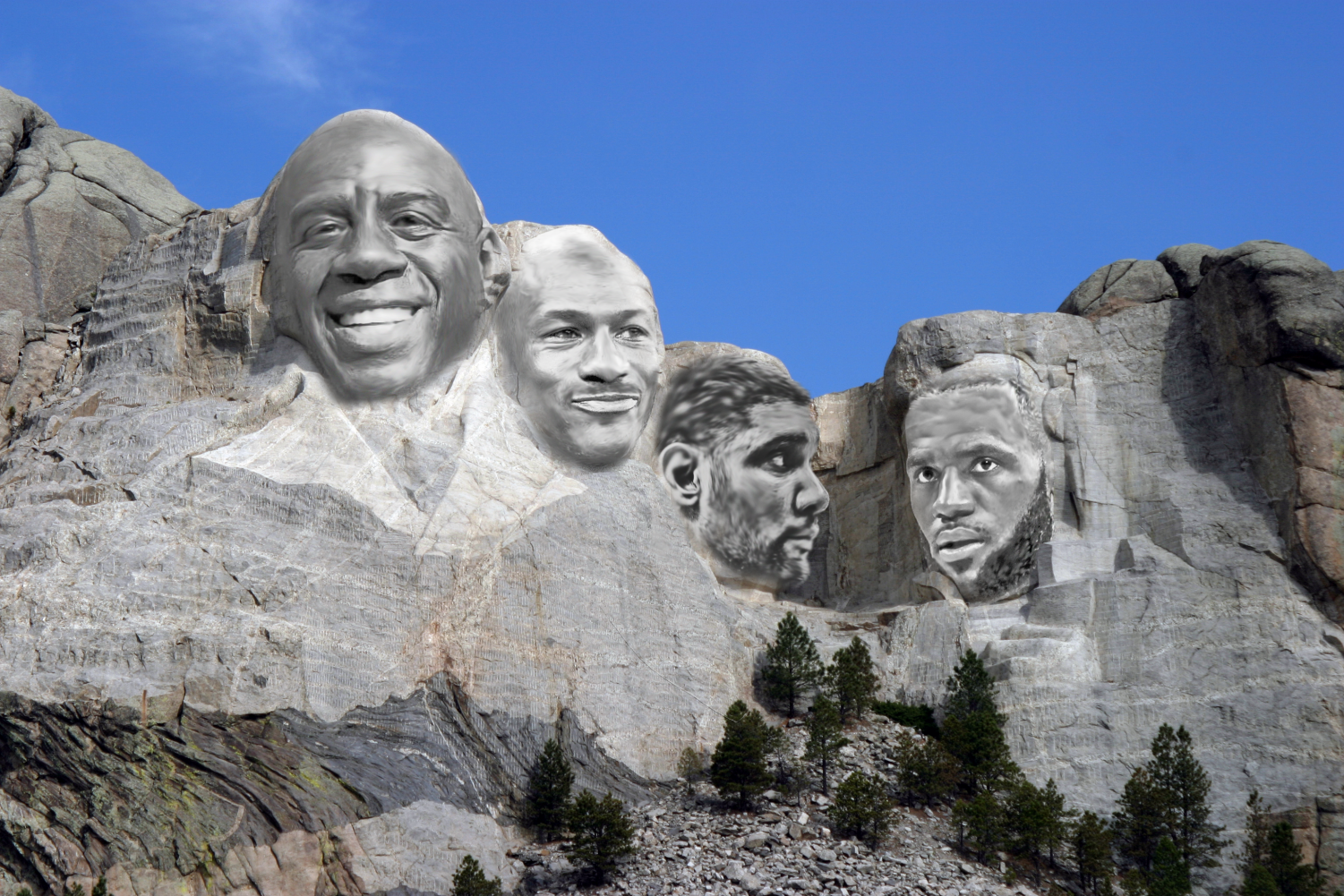 Perhaps the most common two "GOATs", Michael Jordan and LeBron James, are at the top. Then following those two, I have Tim Duncan and Earvin "Magic" Johnson. Although LeBron has had a very successful career thus far, Jordan has to still be considered the greatest of all time. The following two, perhaps making this list the most unique, are Tim Duncan and Magic Johnson.
When it comes to Jordan, there is not much to debate against him. He could score like no other could during his era. He was a 5-time league MVP and won 6 out of 6 NBA championships. He is near the top in both of those categories, separating him from nearly all.
The Jordan vs James debate has gone on nearly since James began playing in the NBA. Jordan was a much more proficient point-scorer than James. James has only had one season in that he averaged 30 points per game (PPG) or more whereas Jordan averaged 30 PPG or more in 8 out of his 15 seasons, which is pretty incredible. Additionally, almost all of the other stats by season or per game are very similar between the two. The difference-maker between the two is the amount of success Jordan has had overall in NBA championships or MVPs compared to LeBron in fewer seasons than LeBron has played already.
Even though following Jordan is very hard to do on this list, James contends with him very well. James, who was drafted into the NBA directly after high school, is 3rd on the all-time scoring list, 4 MVP awards, 4 NBA championships, and he has defeated or nearly defeated many of the modern dynasties of the NBA.
James is known for consistently leading his team to the NBA finals year after year, especially lately excluding the 2018-19 season. James can play anywhere on the floor, and his assist ability has gotten better with age, demonstrating that he is always developing new strengths to try to be the best. James can also play both ways on the court very well, being on the All-Defensive team 6 times.
After Jordan and LeBron, follows Tim Duncan who has many advantages outside of the stats. He was a great team player and successful because of his great skills and fundamentals rather than natural talent. Duncan played his entire career with the Spurs while winning 5 NBA championships, 2 MVP's, and being a 15-time All-Star and All-Defensive.
Although he may not be regarded this high, his abilities to play center, forward, and play defense exceptionally well is what made him superior to others. I considered Larry Bird, Kareem Abdul-Jabar, Dirk Nowitzki, and many others for this spot, but ultimately Duncan's abilities where the stats do not show, such as his fundamentals, earned him this spot.
Finally, on this list, I have Magic Johnson, who made his living off of gritty and unique play for his time, or any time period really. He won 5 NBA championships and 3 MVPs while playing his entire career for the Lakers. Magic could shoot and distribute the ball very well.
Magic Johnson was such an icon during the '80s because of his rivalry with Larry Bird. Both were considered for this spot and ultimately Magic earned it, in my opinion. Their rivalry may also be a source of Magic not earning as much recognition as he deserves. Overall, Magic's assists and defense outweighed Larry and many others' slim advantages in scoring stats.
Despite this not being your typical Mount Rushmore of the NBA, Jordan, James, Duncan, and Johnson are well deserving of their titles. The classic "M.J. vs LeBron" debate has been going on for a while now, and Jordan is more deserving of the G.O.A.T. title for now based on his dominance, however that could change the way LeBron is playing even into his late 30's. Duncan was so fundamentally sound that it is very difficult to find anyone with those skills. As for Magic Johnson, he, in summary, changed the style of play in the NBA and helped progress the level of play over time.
Parker: Kobe Bryant, Kareem Abdul-Jabbar, LeBron James, Michael Jordan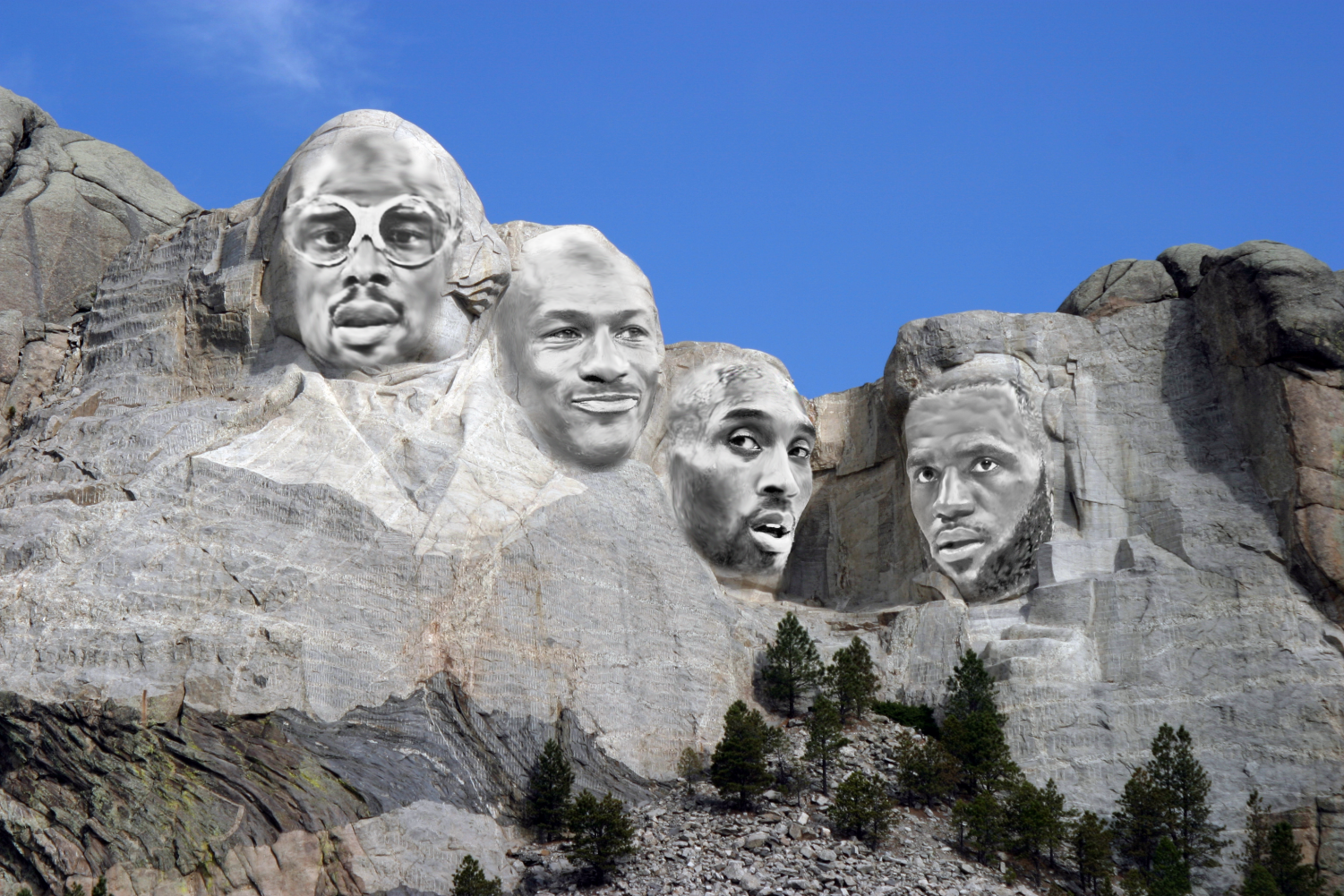 To start off my Mount GOATmore list, I have Laker legend, Kobe Bryant. I would like to start off by saying that I did not put Bryant on this list due to sympathy; I truly believe Bryant is the fourth greatest player of all time. The Black Mamba is the closest player to Michael Jordan that the NBA has ever seen and that alone gets him onto this list
If greatness was specifically based on mentality and work ethic, he would easily be top two all-time. Bryant's athleticism, elite jump shot, and unmatched aggressiveness brought him to these career averages: 25 points, 5.2 rebounds, and 4.7 assists.
It is commonly overlooked that Kobe went 5-2 in the finals; although Kobe only won two finals MVPs, 5-2 is still an amazing feat. Along with the rings, he is an 18-time All-Star, 15-time All-NBA teamer, and what I believe puts him here over the other greats, is that he was elected to an All-NBA Defensive Team 12 times.
Bryant also scored the ball impeccably; he had the offensive arsenal of Jordan, with a more reliable three-point stroke; on January 22, 2006, he scored the second-most points in a single game, with 81. As of today, Kobe has scored the fourth-most points in the NBA, recently being passed by LeBron James.
Next on my list, I have the great Kareem Abdul-Jabbar. Abdul-Jabbar absolutely dominated in the era that he played; scoring and rebounding at will. He also introduced the NBA to one of the most unstoppable signature moves of all time, the skyhook.
Abdul-Jabbar's height and variety of post-moves led him to average an astounding field-goal percentage of 56 percent. He didn't just score efficiently, he scored a lot; average 24.6 points per game over his entire career, and he's ranked number one on the all-time scoring list.
Over the 20 seasons that he played, Abdul-Jabbar racked up plenty of awards to add to his resume, including six MVPs, Rookie of the Year, two scoring titles, 15 All-NBA team selections, two finals MVPs, six NBA titles, and the list goes on.
One of the awards that I did not mention is that he was elected to 11 All-Defensive teams. Abdul-Jabbar's defense was outstanding; he averaged 2.6 blocks in his career while leading the league in blocks four times. Along with rejecting shots, he also pulled down 11.2 rebounds per game over his career.
James is the next candidate I have decided to put him on my Mount GOATmore list. As much as I've argued that James is not the GOAT, I have to admit that he is in fact the top two all-time. His athleticism is remarkable at his size, and his court vision is spectacular; the playstyle of James will be nearly impossible to replicate.
James could easily lead the league in scoring every year but that is not the way he plays the game; James prefers to be unselfish and get his teammates open looks before himself. So far he is averaging 7.4 assists per game over his career; I expect that in years to come, his assist numbers will only rise, due to having, all-star, Anthony Davis at his side and that his athleticism depleting.
The nack on James is that he has been to the finals ten times but has only come out with four championships. I indeed have used this statistic to diminish what he has done, but going to the finals ten times is incredible, especially if you look at some of the rosters that he has willed there.
Amazingly, James's list of achievements is comparable to most of the all-time greats, and he still has many years left to acquire many more awards. His resume consists of being a 16 time all-star, 16-time All-NBA, six-time All-Defensive, Rookie of the year, four-time finals MVP, four-time MVP, and so much more.
Lastly I have who I believe to be the GOAT, Michael Jordan. Jordan came into the League looking like he's been in it for years, and solidified himself as one of the greatest players to ever set foot on the hardwood in no time. His assassin mentality and freakish vertical led him to greatness.
If you glanced at MJ's averages you would be surprised to see that many of his points did not come from behind the arc, but instead from his lethal mid-range jumper and athletic finishes at the rim. Over his career, Jordan averaged 30.1 points, which is second in career points per-game average.
Possibly Jordan's greatest feat was that he went to the finals six times and walked away with six titles, also winning finals MVP every time. Along with those awards he also had 14 all-star appearances, Rookie of the Year, five MVPs, Defensive Player of the Year, 11 All-NBA Team selections, nine All-Defensive Team selections, and more.
MJ's legacy still continues today as his shoe brand thrives. Jordan revolutionized fashion by partnering with Nike to create some of the most iconic shoes ever made. Even after 17 years of being retired, Michael Jordan continues to leave his mark on the game of basketball today.
Xander: Michael Jordan, LeBron James, Kobe Bryant, Stephen Curry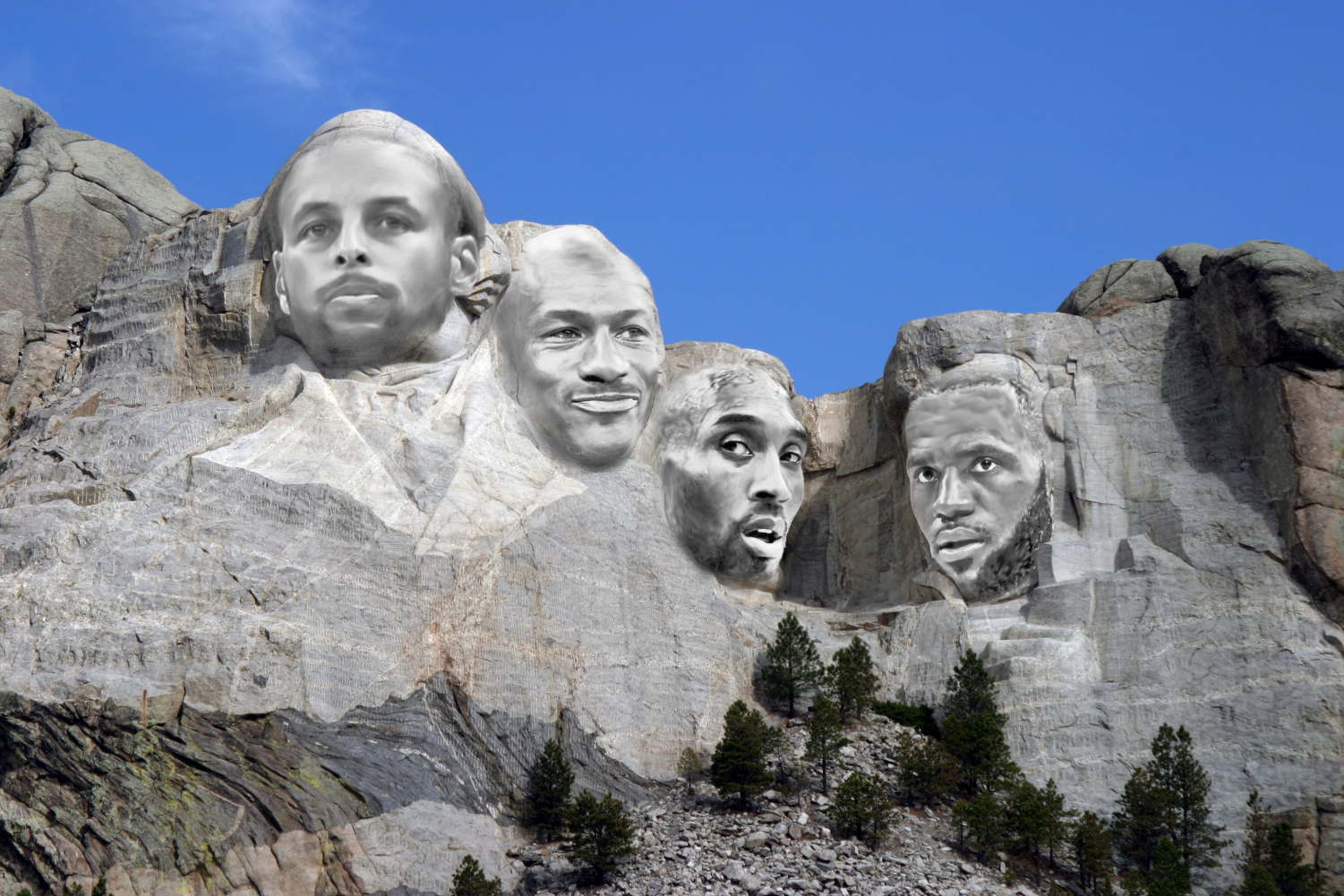 My Mount Rushmore of GOATS is gonna be based off of 3 things; the accolades of the player, cultural impact and personal belief.
My Mount Rushmore starts with the one, the only, Michael Jordan. Jordan's resume is astounding, a 1984-1985 ROY, 1987-1988 DPOY, 14-time all-star, 6-time nba champ, 6-time finals MVP, and 5-time MVP. Cutting that resume in half would still make Jordan look like a top 10 caliber player. An interesting statistic I found was that if you combine the 6 seasons he reached the finals he only missed 6 games.
His cultural impact was also immense. He made 23 the most sought after number in sports. Lebron James himself stated that Jordan is why he chose 23. Jordan also helped kick start sneaker culture with the release of the AirJordan 1 in 1984. By November 1986 Nike had sold $100 million worth of Jordan shoes. He grossed so much money Jordan was given his own brand.
Finally, I believe no one can ever pass Jordan's impact on the game and the world. The only argument I need to say is 6 finals appearances, 6 finals wins, and 6 finals MVPs.
My second pick is LeBron James. Now I know James is probably gonna play for another 100 years if physically possible. That means that his resume could possibly become more impressive.
James won the 2003-2004 ROY and is a 16-time all-star, 4-time NBA champ, 4-time finals MVP, and a 4-time MVP. His accolades are impressive but he goes beyond just awards. James is a playoff beast and will always be in my opinion the king of the playoffs. Since 2004, James has scored 6911 playoff points, which is more than 10 teams in the NBA. That stat means way more to me than what all NBA teams he ended up on.
LeBron James is a massive advocate for athletes being more than just a player. He opened the I Promise School in 2018 that is specifically for at risk children. James has also been a spokesperson for the NBA, recently leading a movement for racial equality.
LeBron was my introduction to the NBA. He holds a sentimental value to me and being able to watch him become a legend over the course of growing up is insane. A finals record of 4-6 is the only thing keeping him at the second spot on my list.
Kobe Bean Bryant. With the passing of Bryant recently I have begun to really appreciate his legacy, which is why he is deservedly in the 3rd spot on my Mount Rushmore. 18-time all-star, 2007-2008 MVP, 5-time NBA champ, and 2-time finals MVP. Arguably Bryant should have 1 more MVP but that's a story for another time. My favorite stat is that Kobe had 122 games with 40 plus points.
Bryant, who was so well known for scoring, made a universal saying for when you shoot an object. If that's not a cultural impact I don't know what is. Bryant also launched in my opinion the best basketball shoe made of all time.
I strongly believe timing is what held back Bryant. If he didn't play between Jordan's decline and James's prime his greatness would be more appreciated.
My final face on Mount GOATmore could be fairly controversial and too soon. Nevertheless, Steph Curry has earned the 4th spot. Curry hits all 3 bases in my book and does it well.
To start off Curry is a 2-time MVP, 6-time all-star, and a 3-time NBA champ. Curry was also the leader of the historic 73-9 team in 2015. The 73-9 team was without, future superstar teammate, Kevin Durant and they still went on to win against James.
I am in the correct age range to see the cultural change of people saying "Kobe" when they shoot dwindle down and then a rise in popularity of people shooting deep 3s saying "Curry." Curry in my opinion made 3s cool and that in itself deserves an award. That Golden State Warriors team in general just changed the way the game was played so much.
Now, my way too soon pick, for Curry to be top 4 may feel like I'm forcing it, but genuinely I believe in 4 years' time it won't seem as far-fetched. In the aspect of accolades, cultural impact, and just overall greatness there is only one thing that he lacks from. That is the fact he hasn't won a finals MVP yet. I truly believe that once Curry gains that he will be solidified in everyone's mind as top 4.